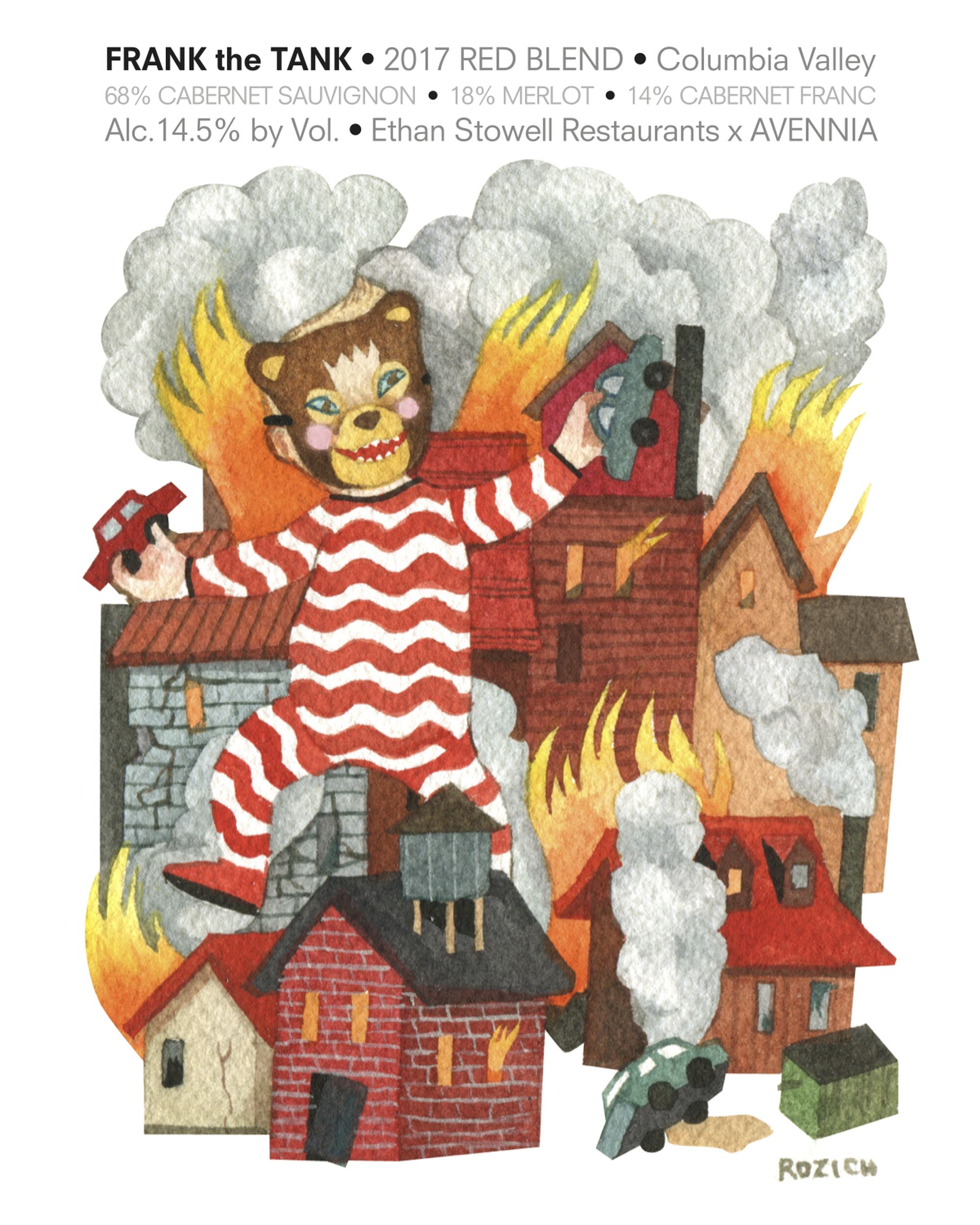 Mar 26 2020
Who is Frank?
---
2017 FRANK THE TANK, A New Vintage
Limited time offer – Regularly $25, NOW ONLY $20
---
For Seattleites, chef Ethan Stowell is a local icon. He and each of his 13 individually-themed restaurants around town are famous to local foodies looking for quality. "We keep it simple. We like to use fresh ingredients and we like to let the food do the talking."
Our partnership since 2013 with the Ethan Stowell Restaurant (ESR) group was a natural match, as our winemaking philosophy is similar; we believe in minimal intervention in the cellar and letting the land speak for itself in the bottle.
Many of you are already avid fans of the Bordeaux-style wine we make exclusively for ESR, called Frank the Tank, a custom red wine for glass pour and bottle service in their establishments. The name "Frank the Tank" is in honor of one of Ethan's two sons and the label (illustrated by Seattle Artist - Stacey Rozich) certainly sets an expectant tone for what might be to come.
This is truly a serious wine though, sourced from many of the same vineyards that we use to build the rest of our Bordeaux style blends Gravura, Sestina, and Valery. Chris recently opened a bottle and offered these reflections on the just-released 2017 vintage:
"This is the fifth vintage for this popular wine. It features a medium dark garnet color. On the nose, a nice blend of fresh berries, currants, black cherry, and chocolate, with hints of vanilla and crushed herbs. Fresh and lively on the palate, this is a great food wine, with nice balanced tannins. It's delicious and full-bodied in texture, a great wine to go with dinner tonight, or it will keep nicely for 5-8 years at least" - Chris Peterson, Winemaker
Like many of us, our dear friends at all of the ESR restaurants have had to switch gears rapidly and just launched ESR@HOME pickup and delivery meals with wine to go. We encourage our local friends to try them out.
Exceptionally, we are also offering the 2017 Frank the Tank for purchase direct from the winery, for a limited time. Curbside pickup, local delivery, and shipping are all available while the tasting room is closed for tastings.
Bottle purchases
Regularly $25/bottle, now offered at $20/bottle.
Regular shipping rates apply.

Buy a case, save on shipping too
Regularly $300, now only $240/case (12 bottles)
Curbside pickup or local delivery in King county: $240/case + tax
Shipping anywhere in WA/OR/CA: $259/case + tax
Shipping to all other states: $279/case + tax
(No further club member or shipping discounts apply.)
Offer ends March 31st.

---

*A New Vintage, Just Released*

68% Cabernet Sauvignon,
18% Merlot, 14% Cabernet Franc
Aged in 25% new French oak for 18 months
Frank the Tank started in 2013 as a collaboration between Avennia and the Ethan Stowell Restaurant Group. The goal of the wine is to feature many of Avennia's top vineyard sites in a wine that pairs well with Ethan's diverse dishes from his many restaurants around the city. As with all of Avennia's wines, careful selection and blending ensure a balanced, delicious wine made to go with great food.
- Chris Peterson, Avennia Winemaker
$240/case (usually $300)
No further club member discounts apply.

---
With any questions, call us at 425-482-4364.

As a reminder, our tasting room is currently closed for tastings,
but open daily 11AM to 5PM, for phone orders, curbside pickup,
local delivery within King county, and shipping.

---