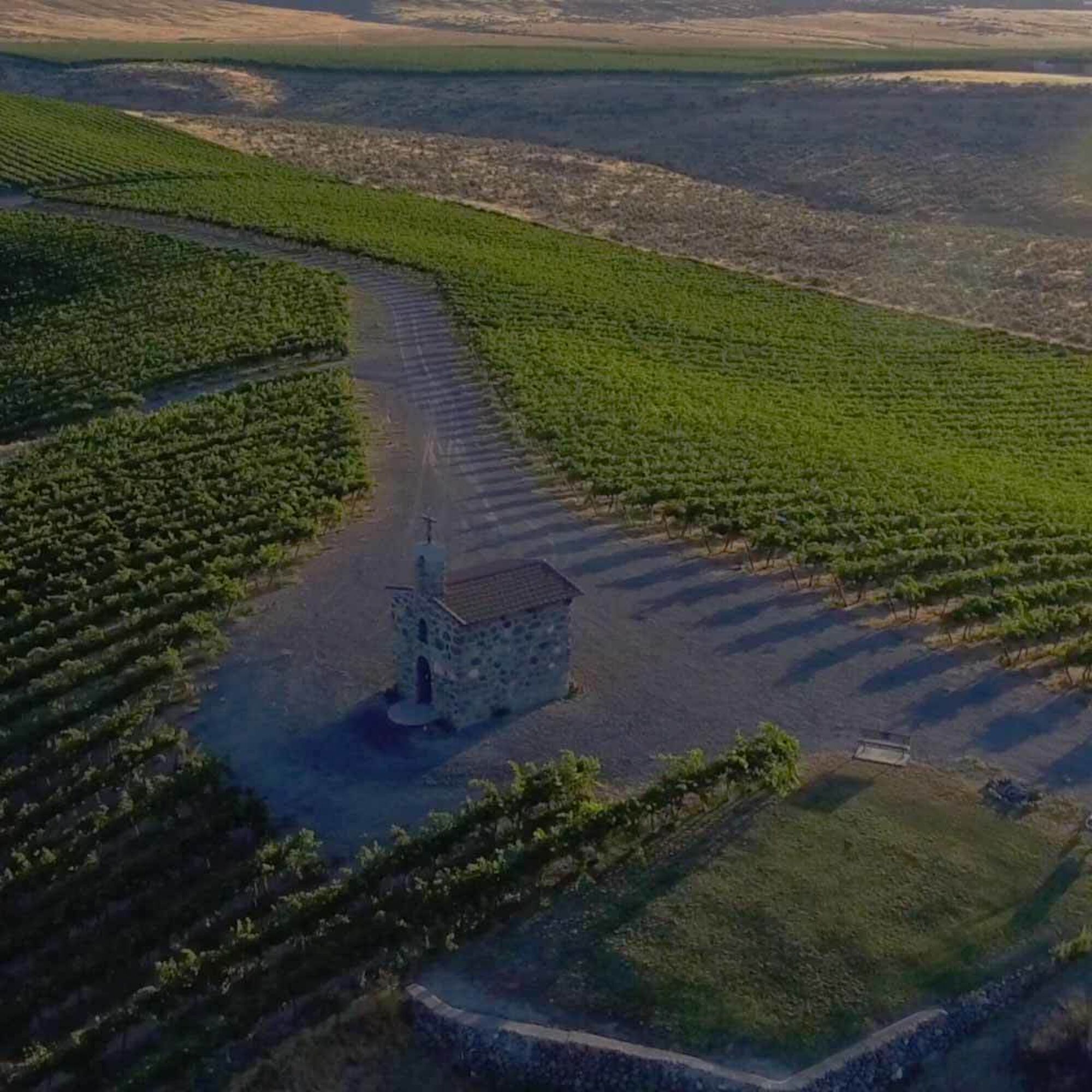 Red Willow Vineyard
The Stephenson/Sauer family have been farming at Red Willow since the 1920s and first planted wine grapes in 1973. Patriarch Mike Sauer is one of the true pioneers of the Washington wine industry and worked with Walter Clore to plant some of the first Syrah vines in the state. The vineyard is located west and slightly south of Yakima and is famous for its iconic stone chapel, built by the family on a peak in the vineyard. The part of the vineyard where we source our fruit is shaped like a saddle, which allows for many different vineyard aspects and elevations. Most of the vineyard lies above the Missoula flood plain. On the west side of the saddle, the soil is poor and rocky, and it is from here we source Cabernet Sauvignon for Sestina and our 100% Cabernet Sauvignon. On the east-facing slope, more clay is found in the soil, ideal for the Merlot planted there, which lends important savory notes and core red fruit flavors to Sestina. Another section of the vineyard, named Les Vignes de Marcoux, lies about one mile west from the original site and features a deeper, sandier soil, perfect for our Oliane Sauvignon Blanc.
Varieties and year planted:
Cabernet Sauvignon – 1985, Merlot – 1985, 1989, & 1991, and Sauvignon Blanc – 2006
Soils:
Ancient with mix of sand, clay, sandstone, and river rocks from Missoula Floods.
AVA:
Yakima Valley AVA
Elevation:
1000-1250 Feet
Vineyard Owners / Managers:
Mike and John Sauer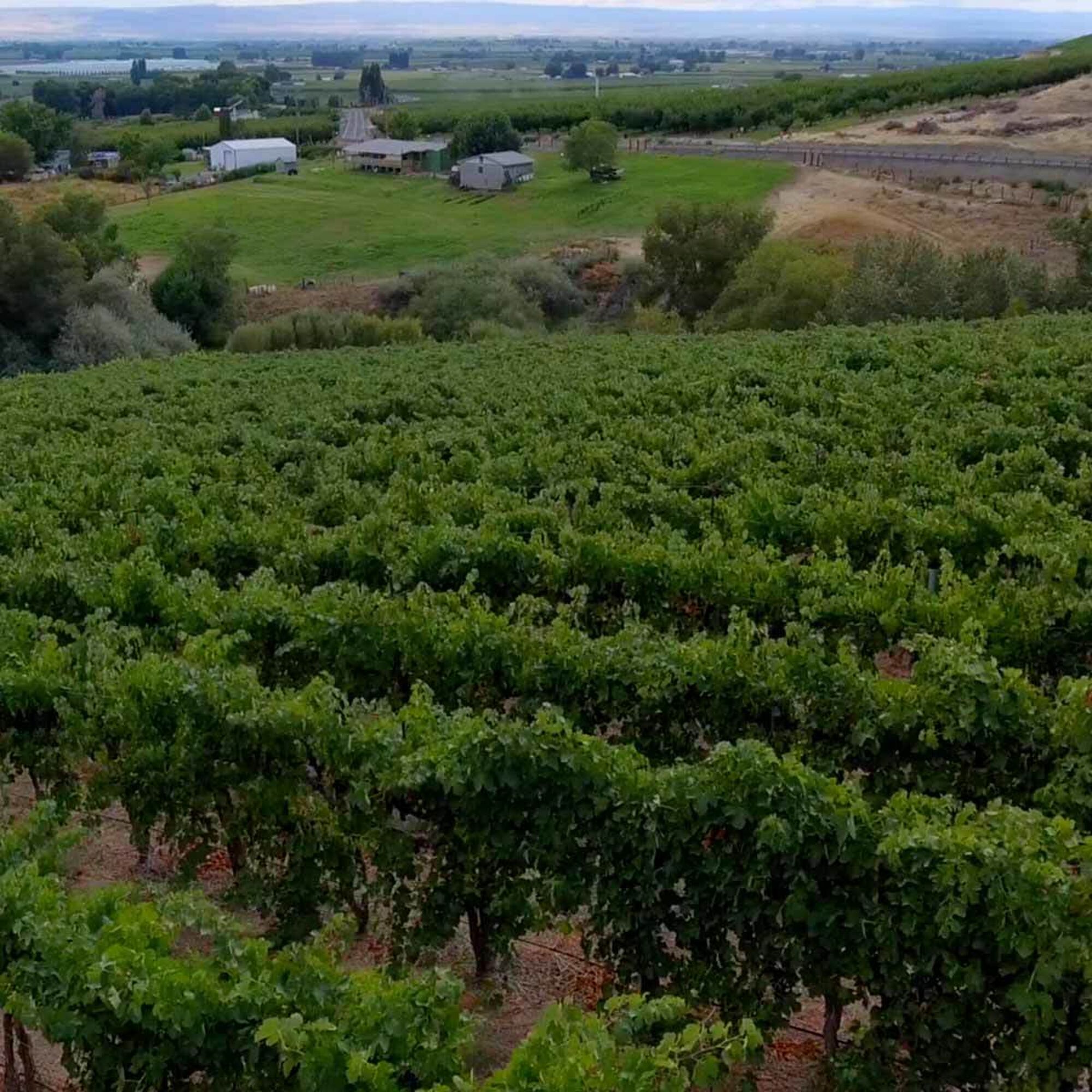 Boushey Vineyard
Dick Boushey was the very first grower with whom we partnered and remains a vital key to Avennia's voice. We source three different varieties from him, which go into three of our flagship wines. He is best known for his Yakima Valley Syrah and Avennia is the only winery that uses both of his oldest blocks of this coveted fruit. The older, called Grand Côte (meaning "great hillside"), produces wine that is piercingly pure and focused, with meaty and mineral aromas backing up its deep blackberry and damson plum fruit flavors. Wines from the second block, Factory Road, show richer body and feature savory cured meat notes, along with orange peel, and a distinct iron note. The combination of these two Syrah blocks makes up Arnaut, a wine we have made since our first vintage, 2010. We also source Merlot from a part of his vineyard that is planted on fractured basalt. The result is a beautifully expressive wine that is medium garnet in color, with ethereal notes of red fruits, crushed white stone, flowers, and a hint of mint which is the backbone of our Right Bank Bordeaux-style red blend, Valery. Dick's Sauvignon Blanc is planted on a nearby south facing slope. This rich, citrus and peach-tinged wine matches perfectly with the Red Willow block to form Oliane.
Varieties and year planted:
Syrah - 1994 & 1996, Merlot - 1986, and Sauvignon Blanc - 2004
Soils
Mix of fractured Basalt, silt and wind-blown loess
AVA:
Yakima Valley AVA
Elevation:
900-1150 Feet
Vineyard Owner / Manager:
Dick Boushey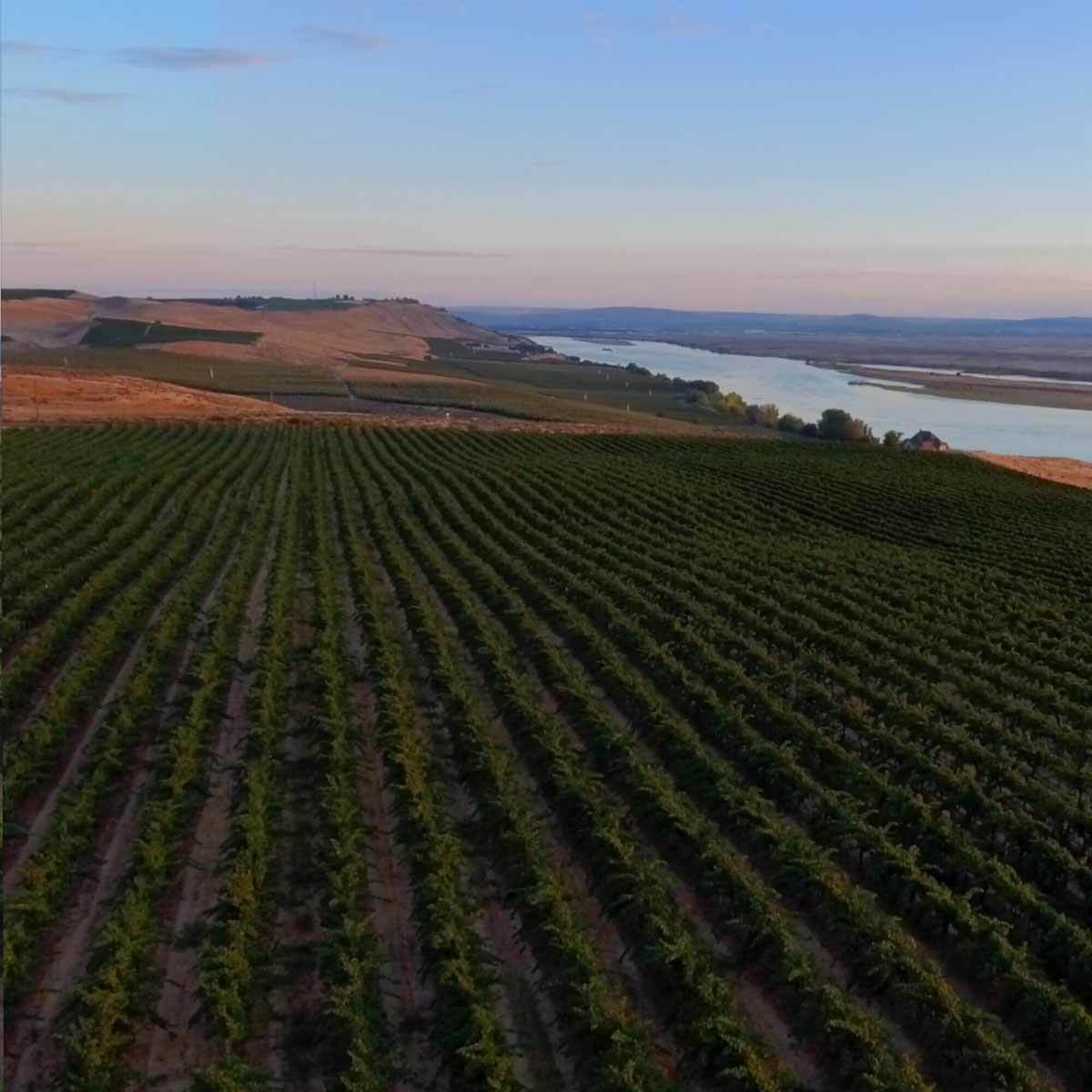 Sagemoor Vineyard
Sagemoor sits on a largely west-facing slope just north of Pasco, right next to the Columbia River. Sagemoor, Bacchus, and Dionysus vineyards are part of one of Washington's newest AVAs - White Bluffs AVA. Here, location is everything, and we've made every effort to lock up the best fruit that matches our style for Sestina and Gravura. The newer Dionysus Cabernet Sauvignon block is planted on a gently west-facing slope near the river. These old vines, planted in 1973, provide a great expression of complexity, including blackberry and cassis fruit, some earthy tones, and an unmistakable bay leaf note that sets it apart. The nearby Bacchus block, planted in 1972 to Cabernet Sauvignon and Cabernet Franc, is startlingly different, at a higher elevation, up on a weather-exposed promontory. The fruit from here is very elegant, often almost medium-bodied, but beautifully nuanced and complex. Black cherry and red currant form the backbone, but there is a wide array of savory complexities, including fresh loam, saddle leather, fresh tobacco, mountain flowers, and a sweet minerality.
Varieties and year planted:
Cabernet Sauvignon 1972-73 and Cabernet Franc – 1997
Soils
Mix of Royal and Warden fine sandy loam, Ottmar-Schloner complex
AVA:
White Bluffs AVA
Elevation:
550-900 feet
Vineyard Owners / Managers:
Kent Waliser and Lacey Lybeck
Avennia Estate Vineyard
Red Mountain AVA
In August 2021, Avennia acquired the vineyard formerly known as Tapteil. The vineyard was established in 1984 by Larry and Jane Pearson and its fruit has contributed to many highly rated wines throughout the years. Cabernet Sauvignon and Merlot are the dominant plantings, with a small block of Cabernet Franc. Dick Boushey manages the vineyard. A 2020 vintage estate Cabernet Sauvignon will be released in 2023, and there are plans for an estate Bordeaux-style blend.
Champoux Vineyard
Champoux Vineyard LLC
Horse Heaven Hills AVA
This iconic vineyard, producer of countless high-scoring wines, was planted and managed by Paul Champoux for many years until his retirement 2015. Dan Nickolaus is the current vineyard manager. The vineyard's Cabernet Franc was planted in 1997 and has been featured both in our Valery Right Bank Bordeaux-style blend since 2012, and our 100% Champoux Cabernet Franc. Wines from this site are very complex, with wild aromas of huckleberry, cherry, tobacco and tea leaf, baked clay, cocoa, and mountain wildflowers and silky and palate-coating flavors of dark strawberry, earthy tobacco notes, rich chocolate, and hints of violet.
Upland Vineyard
Newhouse Family Vineyards
Snipes Mountain AVA
We sourced Grenache from this site for the first time in 2013. Planted in 1999 on a steep, south-facing slope on Snipes Mountain, the soil here has great drainage, with fractured basalt underneath. While younger Grenache can be overly fruity and simple, this older fruit stood out immediately as a revelation in Washington's potential with this variety. It brings beautifully pure red fruits flavors, along with savory herb and crushed rock notes on the nose and palate. It is the core of our Justine Rhône-style blend.
Kiona Heart of the Hill Vineyard
Scott Williams
Red Mountain AVA
Managed by Scott Williams, son of the original owner, Heart of the Hill is a west-facing portion of Kiona Vineyard, slightly uphill from the main winery and vineyard. We chose this warm site for the heat-loving Mourvèdre and the result is a very structured wine that features black fruits, and a savory, meaty character that lends weight and complexity to the Justine Rhône-style blend.
Vineyard Sources for Avennia Wines