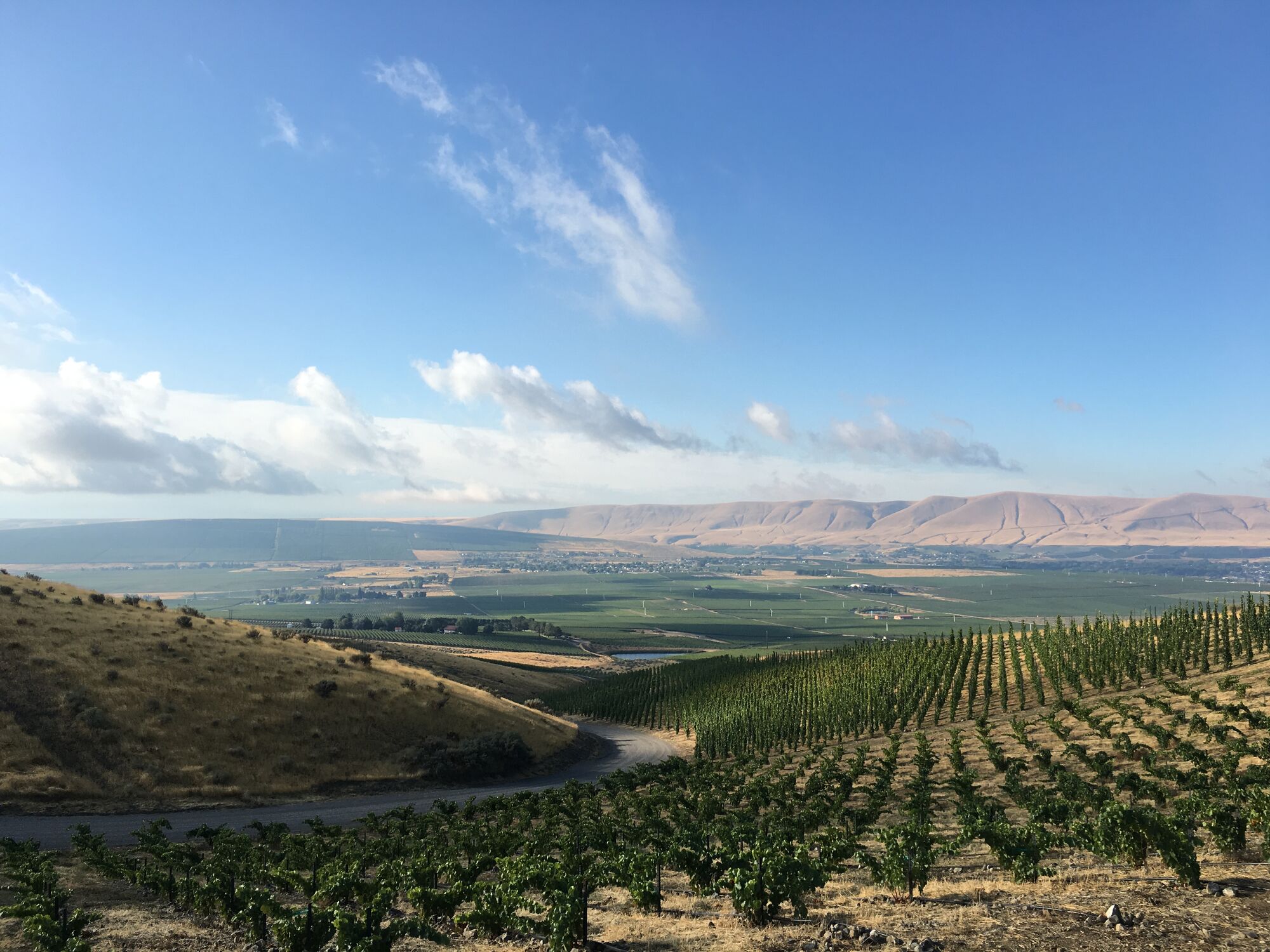 Sep 19 2018
Announcing... Red Mountain Elevated
For immediate release
Red Mountain Elevated: A new wine project in WA State's famed AVA aims for new heights through remarkable terroir and viticulture, winemaking excellence
WA wine industry 'Dream Team' launches new wine brand dedicated to a bold vineyard

SEATTLE & BENTON CITY, WA (Sept. 19, 2018) – What started out as a conversation between four long-time friends and former business colleagues has blossomed into one of the most exciting new projects in the Washington State wine industry in recent years.
The Red Mountain Elevated project combines new vineyards atop the Red Mountain AVA and the viticulture prowess of Cameron Myhrvold and Ryan Johnson with the acclaimed winemaking team from Avennia Winery, Marty Taucher and Chris Peterson.
Earlier this year, Taucher approached Myhrvold, a former colleague at Microsoft, to propose a unique collaboration for this project. The more they talked, the more the excitement built for the idea.
"The opportunity to work with fruit from this site is very compelling," Taucher said. "It's about fruit sourced from remarkable Washington terroir, about advanced techniques in vineyard management that challenge the status quo, and a journey of discovery in winemaking to explore the potential of this unique vineyard. "
The project will create a new dedicated wine brand that shows off one singular vineyard on top of Red Mountain. It is separate from Avennia's existing brand and will have exclusive access to core vineyard blocks on this site.
"Winemakers have shown that Washington can produce world-class wines," said Peterson, whose Avennia wines consistently rank among Washington's best. "This is a chance to ask ourselves – what's the new frontier for Washington wine? It's exciting to think this project is a step in that direction."
The first fruit for the new project will be picked and crushed in fall 2018, and the first vintage will be released in late 2020 or 2021. The wines will be limited – most likely only 400 to 500 cases total production to start – and highly allocated. People can learn more about the project and register for the project's mailing list by visiting www.redmountainelevated.com, Taucher said. Initial allocations will be offered in order of registration.
The vision, and what makes it special
Three central elements make this project unique – the team, the vineyard and the approach to winemaking.
It brings together a dream team for Washington wine with unique proven skills in viticulture, winemaking and business, all sharing a vision for what Red Mountain fruit from this vineyard can offer.
Myhrvold and Johnson are partners in the vineyard and lead the viticulture initiatives. Johnson is one of the most experienced growers on Red Mountain, having worked 19 vintages in the AVA. He spent 15 years working with the famed Ciel de Cheval vineyard and planting the Force Majeure Vineyard.
Taucher and Peterson are partners in Avennia Winery and lead the winemaking efforts. Chris has been making wine in Washington State for nearly two decades and was named winemaker of the year in 2017 by Seattle Magazine.
Unique terroir, bold viticulture, and an audacious goal
The vineyard is part of a remarkable site that encompasses 360 acres on top of Red Mountain, one of Washington's premier AVAs. The 27 planted acres extend up and over the ridgeline of Red Mountain and onto its northern flank, where no vineyards have been planted until now.
"Our goal for the vineyard is big and audacious," Myhrvold said. "Grow the best wine grapes in the world."
The top of the property, located well above the level of the ancient glacial floods, is thick, fractured basalt lava barely covered by a skiff of windblown soil. It brings to mind the rocky growing regions of Côte Rôtie or Priorat, Myhrvold said.
The first vines were planted in 2016, after Johnson spent more than a year walking and evaluating the property. At present, 27 acres are planted with 45 different vineyard blocks. The planted vineyards are primarily Rhone varieties, which will be harvested this year. Three small blocks of cabernet sauvignon will be harvested in 2019.
More than 12 soil types on the property, ranging from deep sand to broken basalt, creating a geologic palette with multiple unique flavor profiles. The vineyards feature extensive high-density plantings – 4,000 vines per acre in some blocks, which is rare in Washington State. In total, there are seven different vine training systems for the vines and 12 different spacing layouts based on grape variety, soil and geographic orientation of each block.
"Everything we've done in the vineyard has been at an obsessive level of detail," Johnson said. "Because we are pioneering something new in developing the ridgeline, we've had the freedom to be creative and innovative. Of course, there is some risk, but the risk is tethered by our extensive experience and rooted in our knowledge of the land."
A new winemaking playbook
Taucher and Peterson are creating an entirely new lineup of wines that shows off the vineyard and an approach to winemaking that is different than Avennia, Taucher said. The name and other particulars about the brand will be announced next year.
The initial vintage sourced from numerous vineyard blocks will focus exclusively on Rhone varieties. The wines will be produced at the Avennia facility in Woodinville but made using alternative fermentation vessels and strategies.
"It is an opportunity for us to explore some techniques better suited for the wines from this vineyard," Peterson said. "We can try new things that honor the creativity of the vineyard and capture the expression of this remarkable terroir that is unique to Washington State and the West Coast."
While the project will retain exclusive access to some vineyard blocks, other vintners have since approached Myhrvold and Johnson about purchasing fruit from other blocks in the vineyard in this first harvest. As the project continues to move forward, Myhrvold is enthusiastic about the initial collaboration with Taucher and Peterson.
"No one else that we are working with or talking to has anything like the ambition or completeness of vision that Marty and Chris do.," Myhrvold said. "Marty and Chris did not come to us and say, 'Gee, we want to buy some grapes.' They said we want to build an entirely new brand to showcase specific and amazing wines we think we can make with your unique fruit.
"They believe what we are doing is new and groundbreaking and interesting and they see in our vineyard an opportunity they have not found elsewhere and they are ambitious enough to want to capitalize on that. We could not be more flattered or more excited to be working with them."
# # #
Media contact
Bob Silver
Silver Strategic Communications
206-355-2993